2020 in Inky Review Part 1: Personal Trends and Collection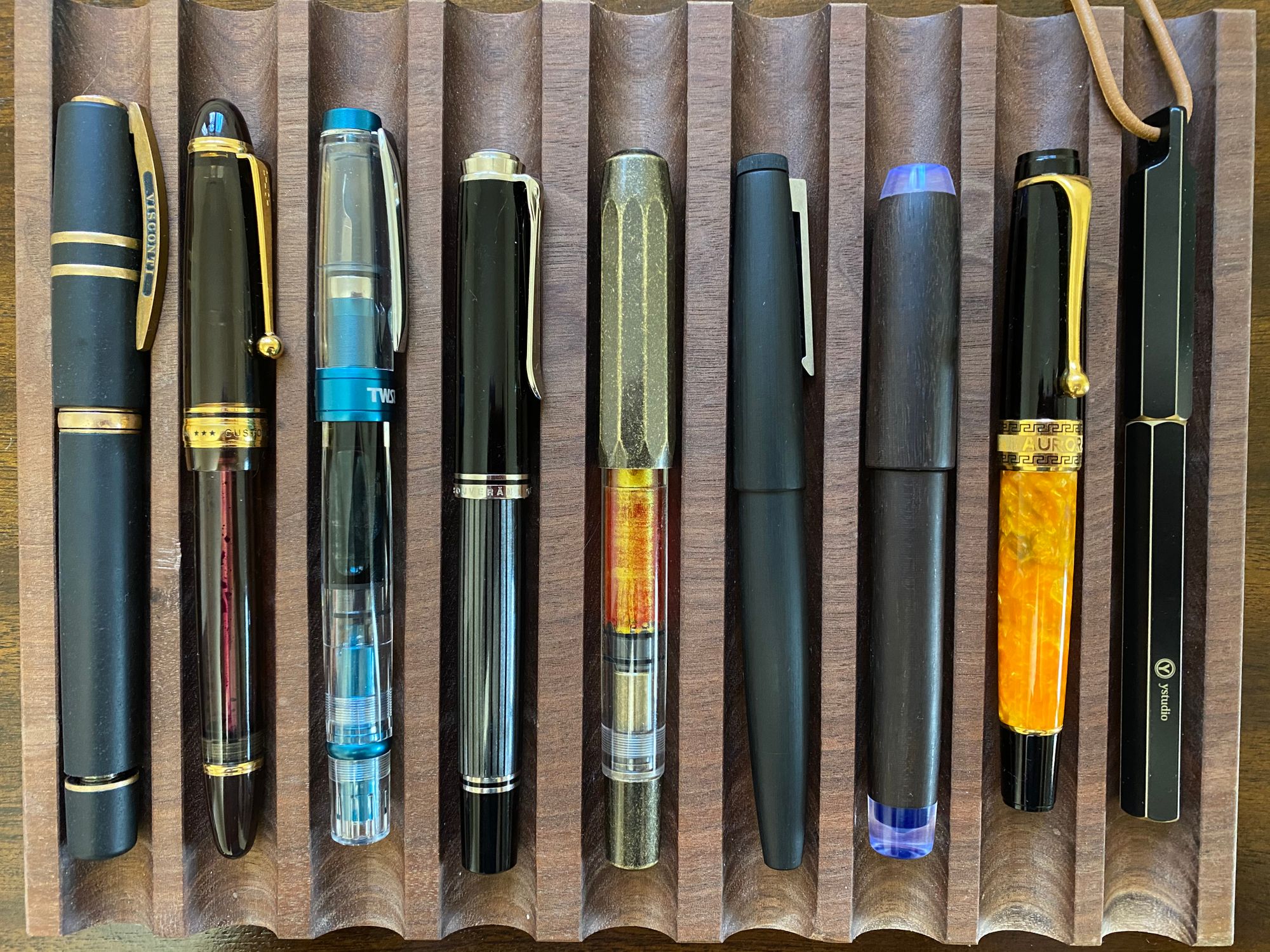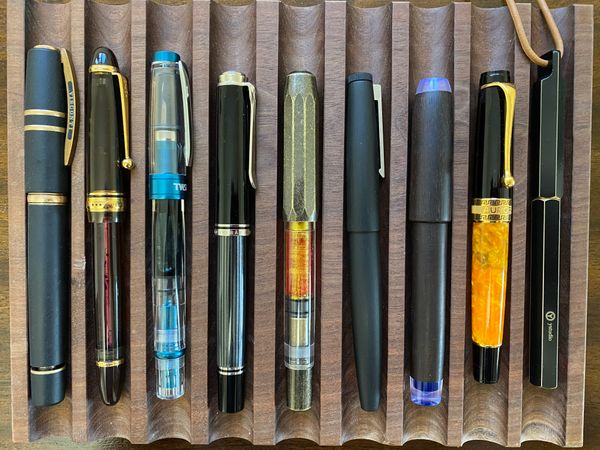 Well, that was a year, wasn't it? It certainly wasn't how any of us planned it panning out, so thank God we have our analog and digital diversions to keep what little bits of sanity we could salvage. Last year's recap was full of hopeful optimism about a year full of pen shows, and excitement to try new products, and then...gestures at everything
Despite, or perhaps because of the pandemic, lots of us engaged in some serious retail therapy, and our old and new favorite retailers and makers made sure that we had plenty of great places and products to do so. At the same time, some of the communities that we had relied on for our pen friend fix took a step back, and other online communities and friendships flourished.
Online Communities
Normally, I'd jump straight into talking about pens, inks, and paper, but this year, I want to talk about what has really made the pen hobby so critical to me: the people. I was lucky enough to get to go to two pen shows right at the start of the year, and oh, how I wish I had known that would be it. Those shows were great, filled with pens and friends and food, but how much more I would have savored those moments if I had known that would be the last time to see any of my pen friends in person this year.
Thankfully, we live in today's world full of communication methods, and places like Slack, Discord, and Zoom swept in to fill the vacuum made by social distancing and isolation. I've drawn closer to pen friends and had late night chats and deep conversations that would have been otherwise impossible thanks to geography. At this point, it's not even worth making the distinction of "pen friend" versus "friend", because that's just where we are.
Weekly Zooms have been going on all over the place, and I've even had the opportunity to jump in to other pen clubs here and there. The Hoosier Pen Club, DC Metro Pen Crew, and so many others have welcomed people from all over the place to talk with each other, interview special guests, and provide a respite from the isolation; windows back to normalcy in a 3 by 3 grid. I still haven't managed to catch one of the overseas pen clubs, but one of these days I'll make the time zones work. (As an aside, I firmly hold that the FPN-Philippines community on Instagram puts out some of the best pen content on the internet. I'm gutted that I had to miss FPN-Pasko2020.)
My Collection
My own collection went through a tremendous amount of churn, but now I'm really starting to feel like I've found where my collection is, and where it's headed. I've always had the idea in mind that I'd have a "representative" from each major brand, and I think I'm almost there. Thankfully, that rule is loose enough that I can also swap pens in and out as I desire, but overall, it's been a good guiding light for how I buy and sell pens.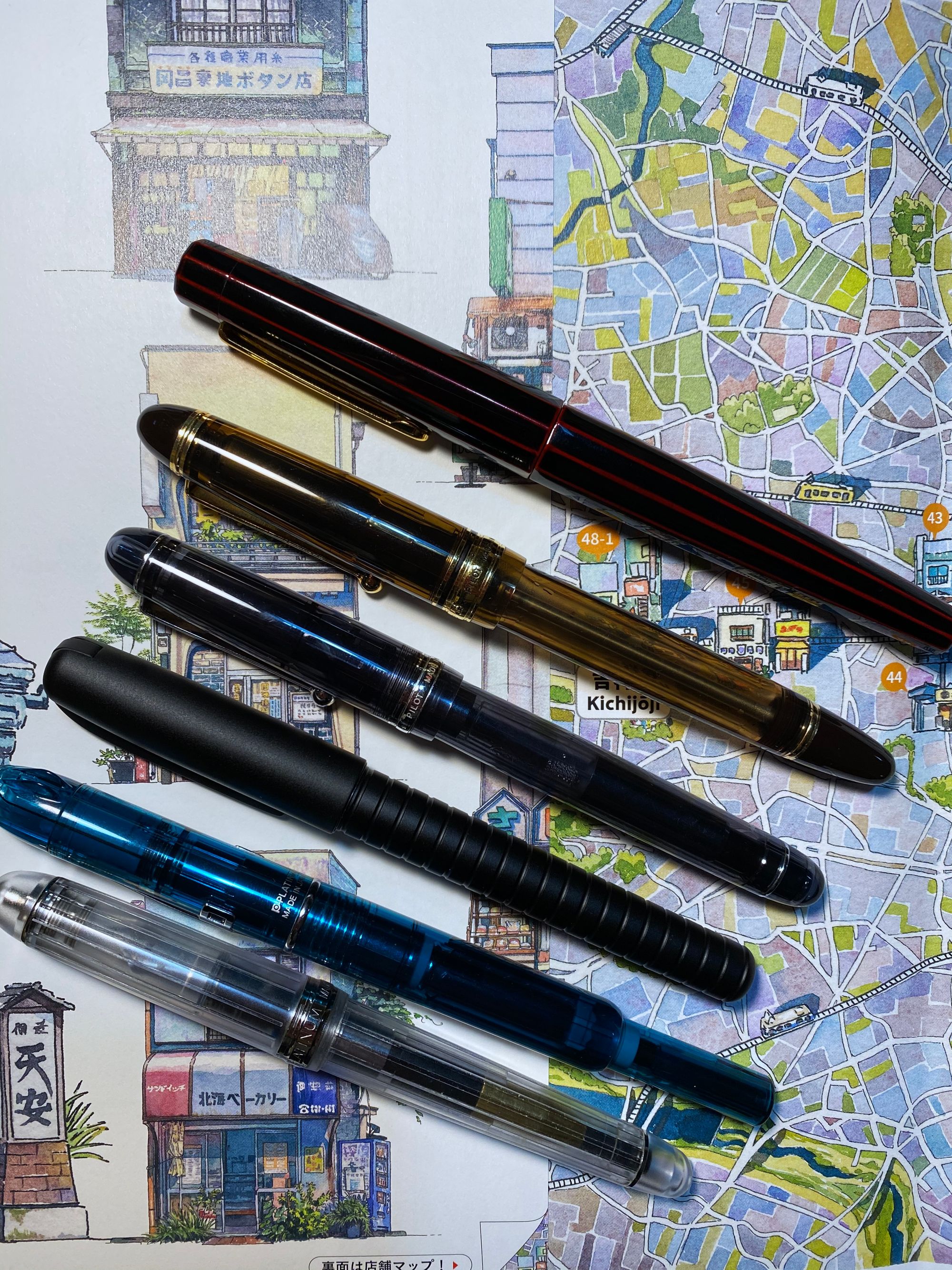 I re-added a Pilot Custom 823 and an Aurora Optima to my collection, both in different finishes than the last time I had them. There's a reason those pens are classics, and picking them up again has reminded me why I had them in the first place. I also re-added the Lamy 2000 in a slightly more usable fine nib this time, instead of the oblique double broad I had the last time. I love a big chunky nib and all, but the Lamy 2000 cries out to be used, and a fine makes that a lot easier.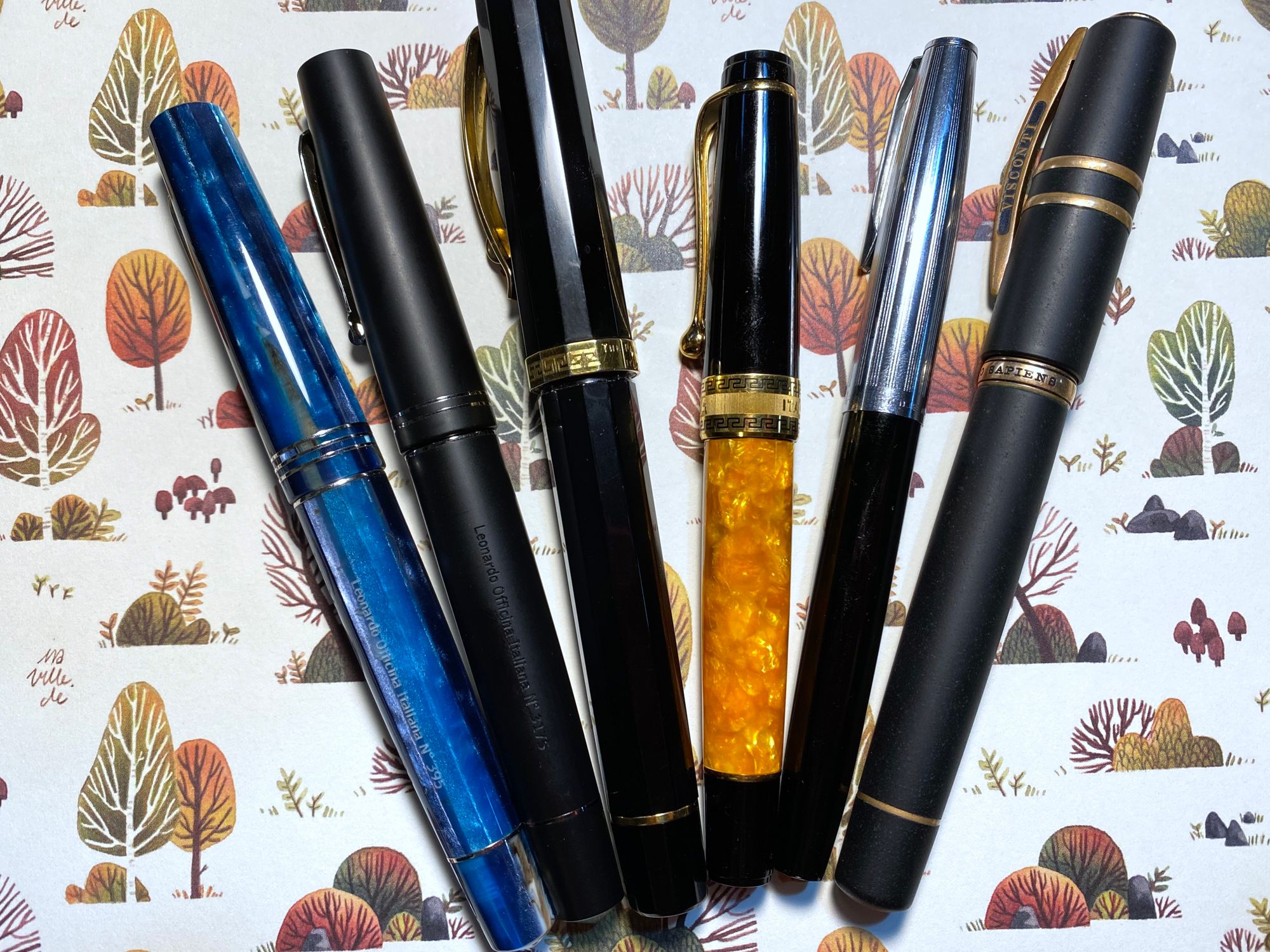 I had the opportunity to pick up some great new additions as well. From Red Dragon, a pen without a model name. It's a good sized, eyedroppperable, Brazilian ebony pen with an "ink tail"? You better believe I jumped on that. Brian does great work, and I was glad I was able to pounce when he put a pen up for sale.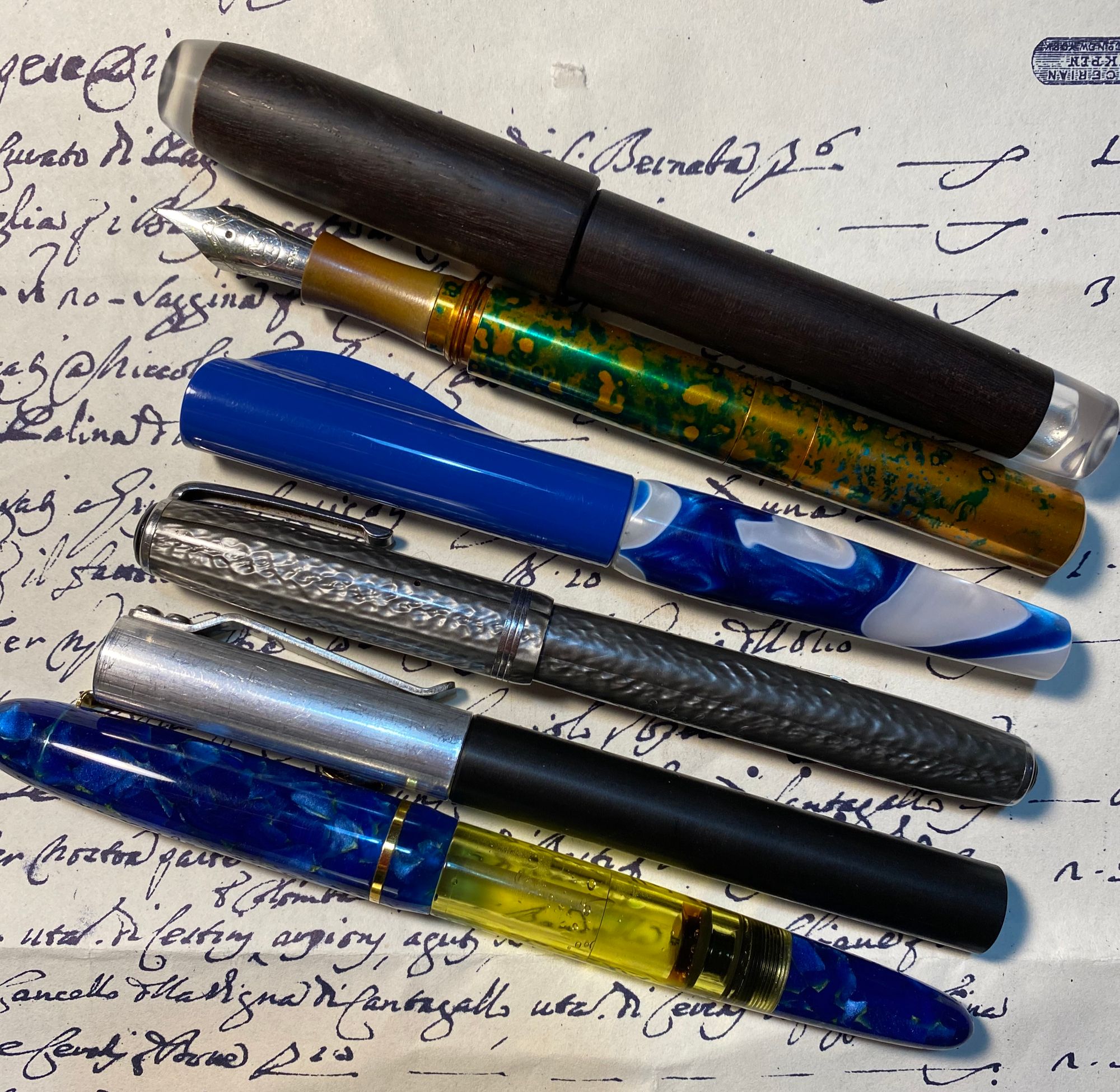 The Visconti Homo Sapiens and a Pelikan M805 joined the collection as well. I didn't pay full retail for any of the sizable purchases I made this year, and picking up a Visconti on the second-hand market has to be the way to go. It's a pen with its own opinions on things (like whether or not you should know if you got a good fill of ink,) but that's part of its charm.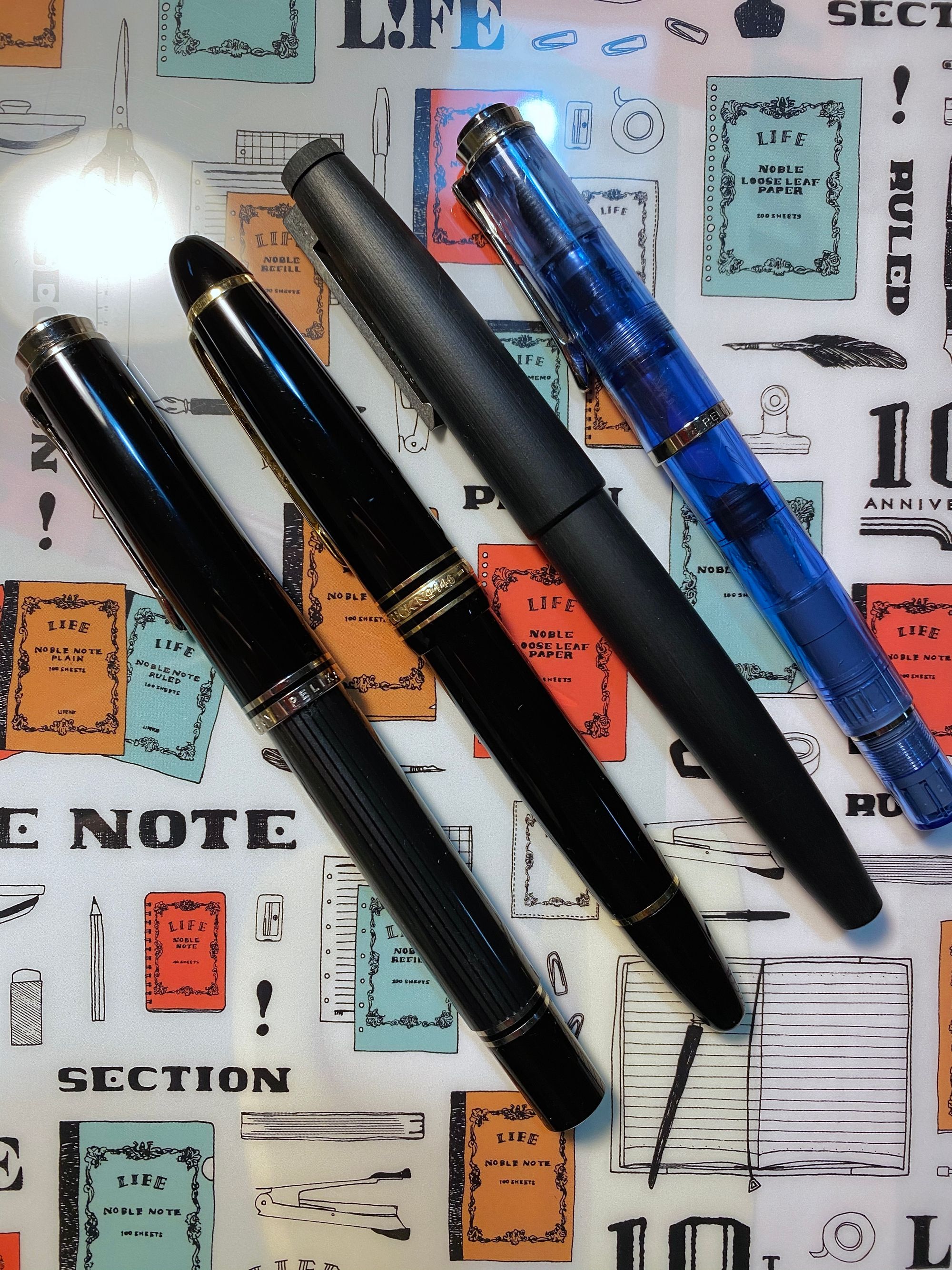 A little further downmarket, TWSBI continued to put out some great pens, like the 580 ALR in Prussian Blue, as well as the Eco in Cement Grey. Thankfully, rose gold and anodization doesn't really speak to me, but if it did, an even bigger chunk of my wallet would have gone their way. TWSBI has been on top of their game lately, and it shows. And they have to keep moving, because brands like Moonman are right on their tail, with the widely available Moonman T1. I picked the T1 up after hearing CY rave about it, and I'm glad I did. The piston could use a little tightening, but the generous dual-channel feed was a pleasant surprise in a $30 pen.
Overall, I'm loving how streamlined the pens I have are. Each of them has their own niche to fill, and they don't just limp in to their spots, but proclaim the design language of the companies that made them. I don't think I've ever been happier with my collection than I am now.
---
I was going to jump into more market trends in the way that I usually do, but I've already blown past my usual word limit for a post, so I'll wrap this here, and other trends will come later.
It was certainly a good year for me in pens, and I hope that all of you had your own chances to distract yourselves from the world outside and play with inks and paper for a bit.