The Paper Series: Midori Letter Pad
During InCoWriMo this year, I got bit by the letter writing bug. There's something great about both sending and receiving mail, and as a bonus, you get to play with a ton of fun stationery. So this May, when my wife and I went to San Francisco, we stopped in to Maido in Japantown so that I could look for more fun stuff.
One of the things that I found was this pad of Midori letter paper. Maido had a tester out, so I grabbed the pen I was carrying and found that the paper held up great to fountain pens. I seem to remember paying around $10 for the pad, but it's been so long now that I don't remember.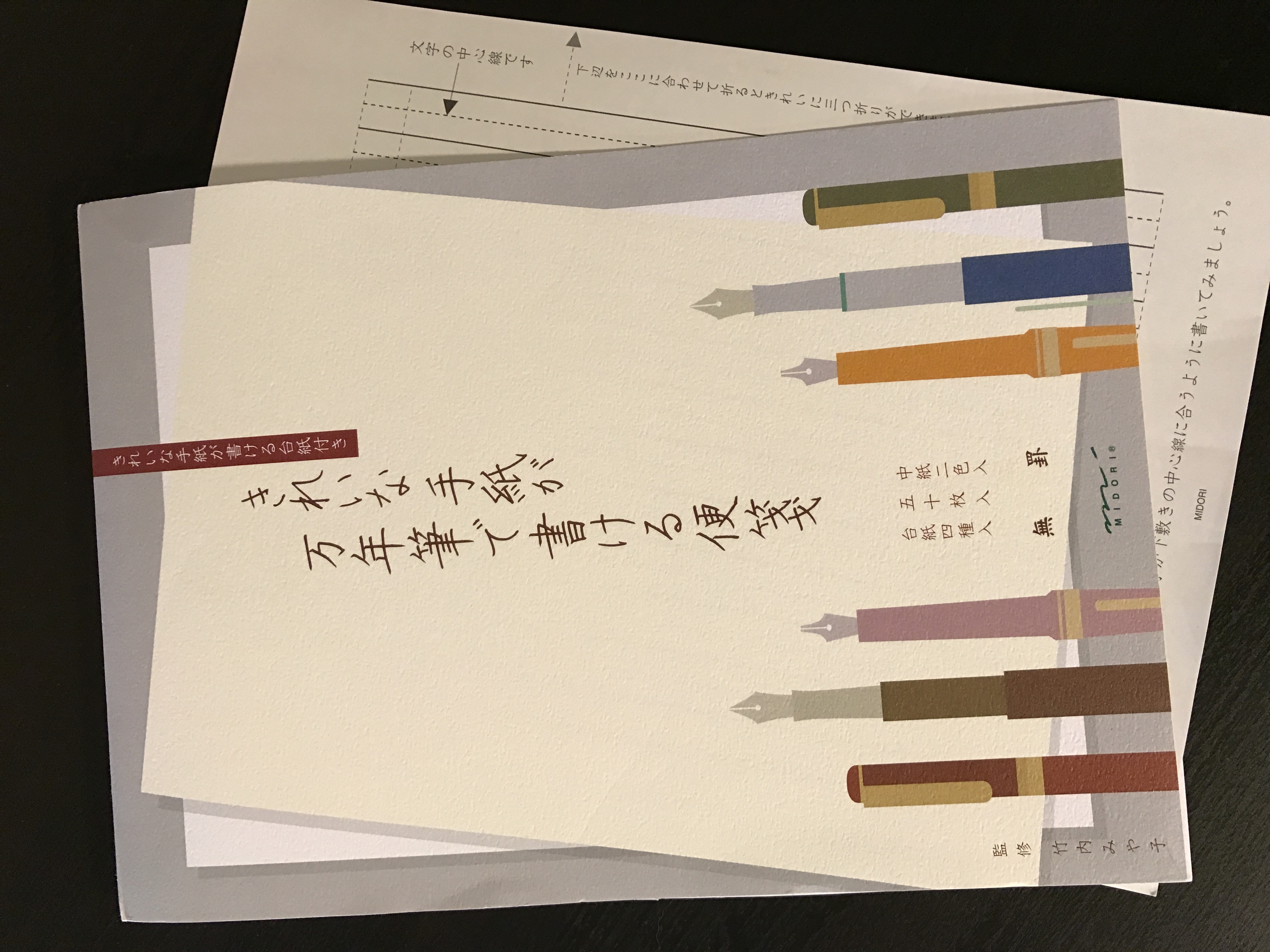 Once I got the pad home, I started trying to find more about it, and I've frankly come up pretty much empty. It's definitely a Midori product, and you can still find it on places like Rakuten, but I haven't found anything other than that. It doesn't bear the "MD" branding that Midori uses for most of their paper, so I'm not sure if the paper is the same as what they're using now; the pad I have is copyright 2014, it may just be an older product that they don't have in their lineup anymore.
The paper has a nice sort of toothy-ness to it, but not in an unpleasant way. I think there's a coating to the paper, as you can get some feathering if you let the oils from your hands rest on the lower half of the page, but that's easily solved with a page of scratch paper. The paper is blank, but it does come with guides to place under the page that you're writing on. The pad came with guides for both Western-style writing as well as kanji, but I find that the spacing for the Western writing is far too spaced out for writing in English, so I printed off one of Ana's guides from The Well Appointed Desk and cut it down to size.
One weird thing that I hadn't noticed until I started writing this review is that the paper is actually two different colors in the pad. The top twenty five or so pages are a pleasant ivory color, but the second half of the pad looks to be more cream colored, which totally threw me for a loop when I noticed. Of course, once I did, I also noticed that the image on the cover of the pad actually suggests that, and if I could read Japanese, I'd probably have known that.
The paper is thick enough that you can write on both sides, which is nice since this pad was rather pricy for only 50 B5-sized sheets. In my writing samples, I do see some sheen, not just in the Organic Studio Walden in my TWSBI Eco (which will sheen on just about anything), but also a bit in the Iroshizuku Syo-ro that is in my Custom 74.
Overall, this is a fantastic pad of paper for letter writing, only complicated by the fact that I have no idea where one would find it except at one specific store in San Francisco. You could probably get pretty close with some of the newer options from Midori MD, but I'm not positive on that. In the meantime, this will remain the paper that I reach for first when writing letters. Until I run out, that is.