The Paper Series: Whitelines Pad Review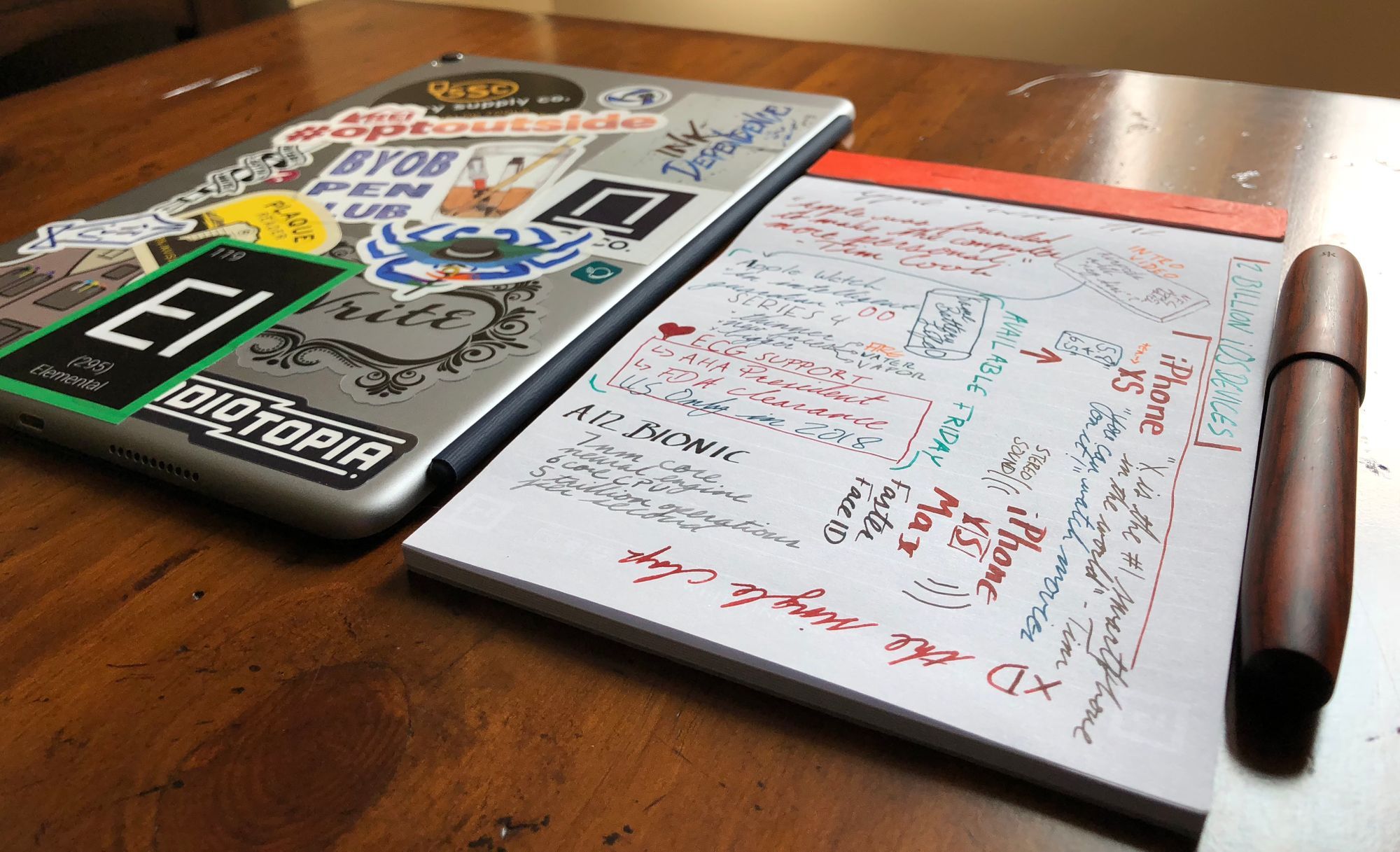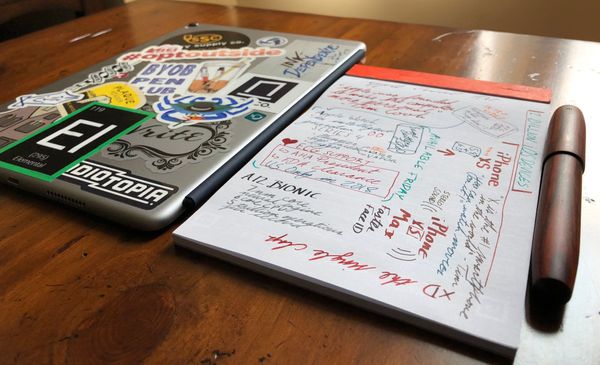 I live my digital and analog lives almost entirely separately. I've been a technology guy since I built my first computer when I was 13, and my love of stationery has only rekindled itself in the past few years. So when something really hits the intersection of those two passions, I'm always intrigued.
At the DC Pen Show, Lisa from Vanness Pens handed me a pad of Whitelines Link paper just to try out. The name of the product rung a bell, but I had never played with the paper, so I was certainly intrigued. As I've come to expect, when Lisa hands me something to check out, I should know I'm in for a good time.
As I quickly found, the Whitelines notebooks and notepads have been around for quite a few years. They did the blogger rounds way back when, but I haven't heard anything about them for some time. And for the life of me, I can't figure out why!
The Paper Side
The specific notepad that Lisa gave me was the Whitelines 5" x 8" Lined Pad, which is a great size for setting next to a computer as I work, without dominating the space on a desk. This pad comes with 40 sheets, each marked with the Whitelines symbols on front and back (more on those in a moment.) The paper is a nice, cool grey color, with, as the name suggests, white lines across the page. I wasn't sure how I'd like the grey paper, but I found it to be really enjoyable! Colored inks really pop off the darker background, but it doesn't affect the color reproduction.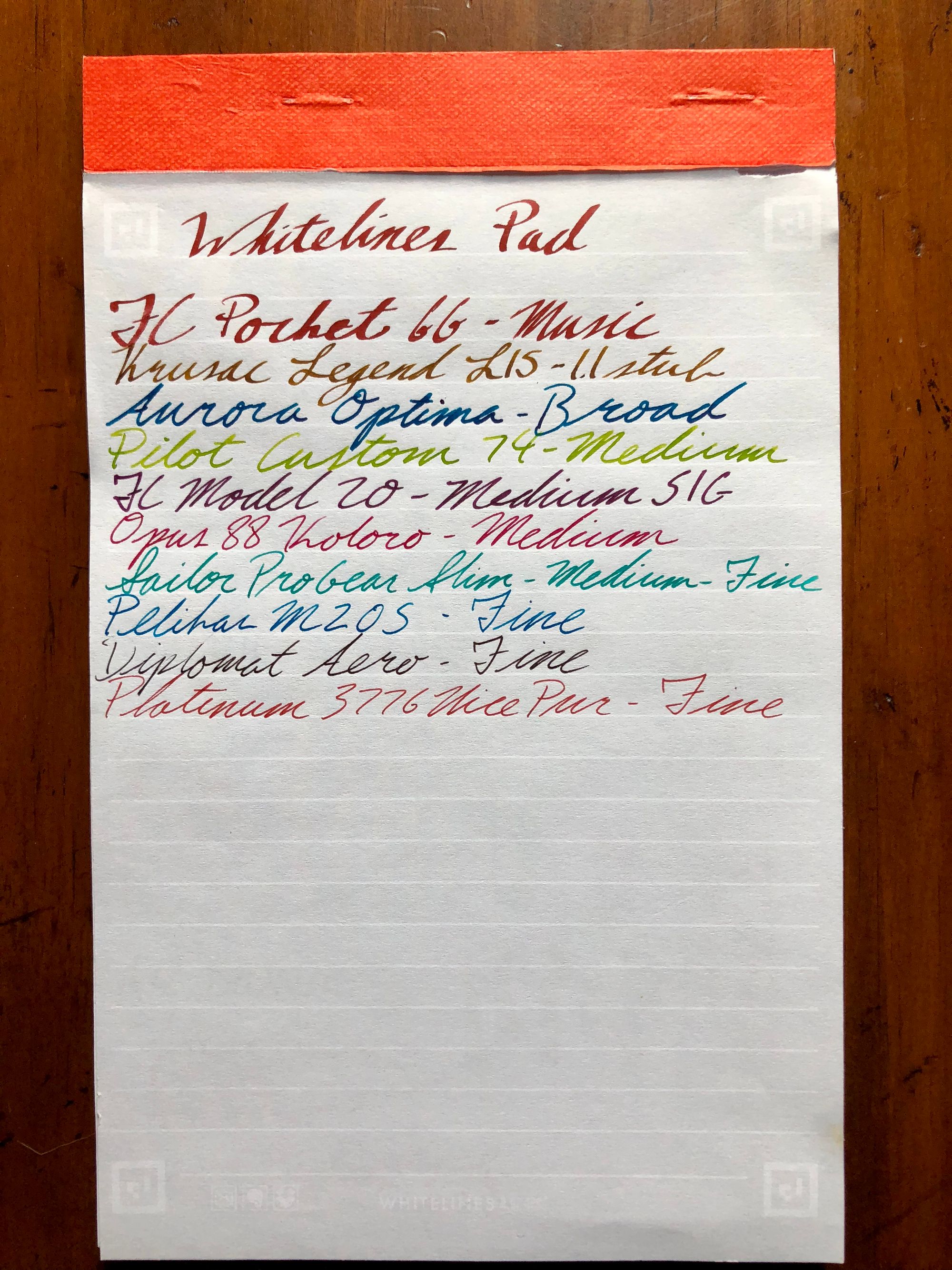 Performance wise, I have no complaints at all about the paper. It's smooth but not coated, and handled all of the pens I threw at it without a hitch. Shading and some sheen were both present, and there was no feathering or bleeding to be found. I worried about showthrough making the back of a page unusable, but there were no problems there either unless you really poured ink on the page.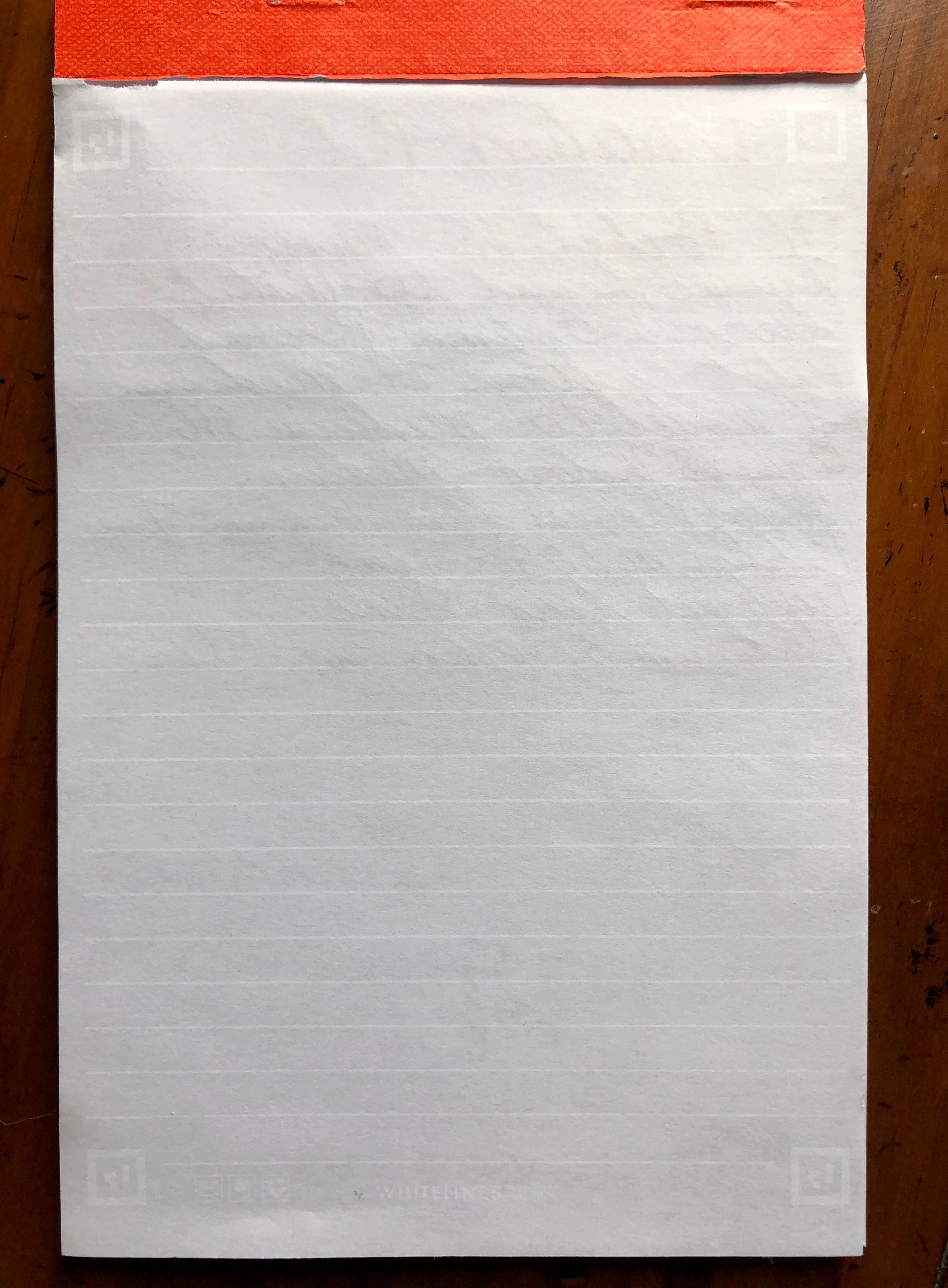 Price wise, this pad was $4 for 40 sheets according to the tag on the back of the pad. For a specialized, odd sized notepad, that's a totally fair price. It works out to 10 cents per sheet, which is quite cheap compared to some of the other products I've reviewed on this site. If you're looking for a nice, off colored notepad to use next to a keyboard, this is a pretty solid choice.
The Technology Side
But the Whitelines notepad isn't just a paper product. The main "gimmick" of Whitelines' products is that you can use their app to scan in pages from your notebook, and it will remove the lines from the image. And honestly, it feels like pure wizardry.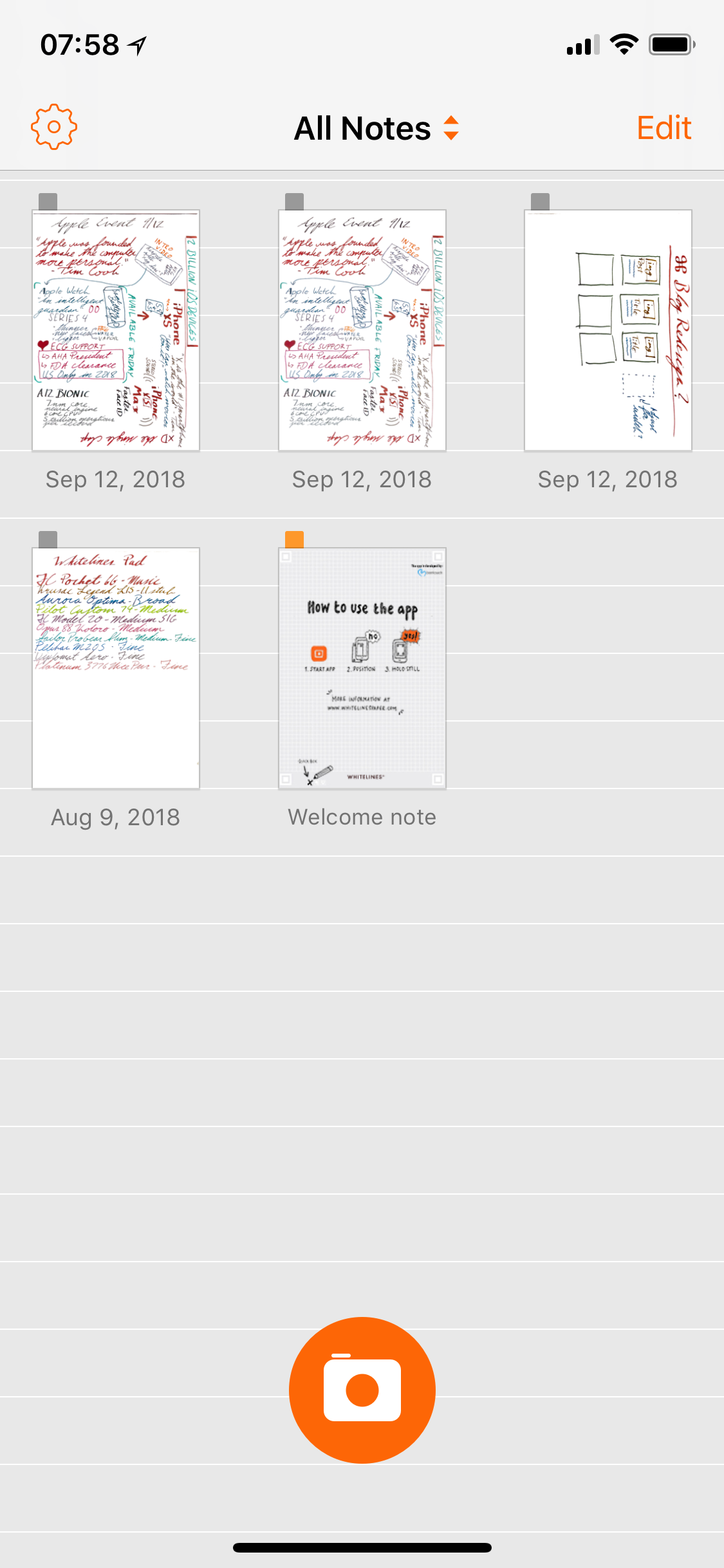 The Whitelines Link app is available on any of the major mobile app stores, and is updated for iOS 11 and for iPhone X, which I was surprised by. When you launch it, you're greeted by a simple welcome note instructing you to click the camera button, point the phone at the notepad and...that's it. There's additional stuff you can do with tagging and sorting, but you don't have to. You can also mark in the small glyphs on a page to trigger a quick action to send your scanned image to either email, Evernote, or Dropbox.
When you snap a picture in the Whitelines app, that's where it gets interesting. The lines go away, as do the glyphs, and it appears the app does some color correction to eliminate shadows from an image. What you're left with is just the marking that you made on the page against a stark white background in image form. I did notice some shadows and things get picked up in the scan, but it also picked up shading and sheen nicely, which I was really suprised by.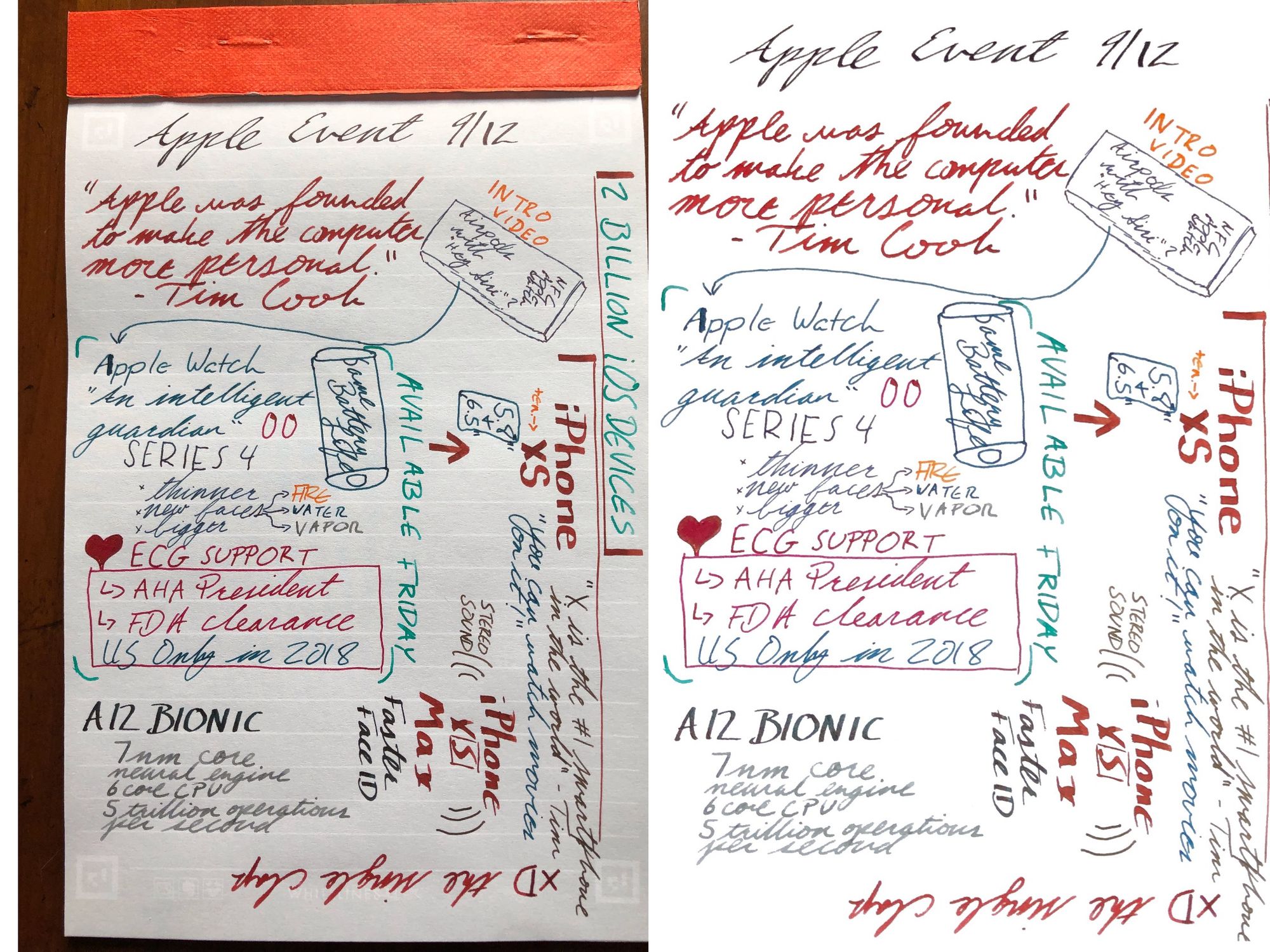 The Confluence of Analog and Digital
Because the paper is good and the app is good, the Whitelines products have moved to a "no brainer" for me. When I started writing this review (as you can see in the screenshots was over a month ago!), I wasn't sure what to think of this notepad. I just couldn't see where it would fit in my workflows.
I work from home, so my work notes just go in a notebook for me to review later, and then I destroy the notebooks about 6 months after I fill them because I work in a sensitive field. So, I thought, what's the point for me in a product that's all about moving my notes into the digital space? I have my apps for mind mapping and things when I need to do computer work, and I have my notebooks where I write and play.
But like so many other people I know, I think in diagrams, arrows, and outlines, and I much prefer to do that in an analog space. I love taking notes in multiple colors to highlight different speakers or different topics, it just matches up with how my brain processes things. Whitelines lets me move things from the analog world to the digital one, and lets me use the pens and tools that I love. It's not an everyday notepad by any means, but it's a great tool to have available to me, and that's what's important.
There are a bunch of different form factors for Whitelines paper, so if you think you might want to try it for yourself, go take a look at Vanness Pens.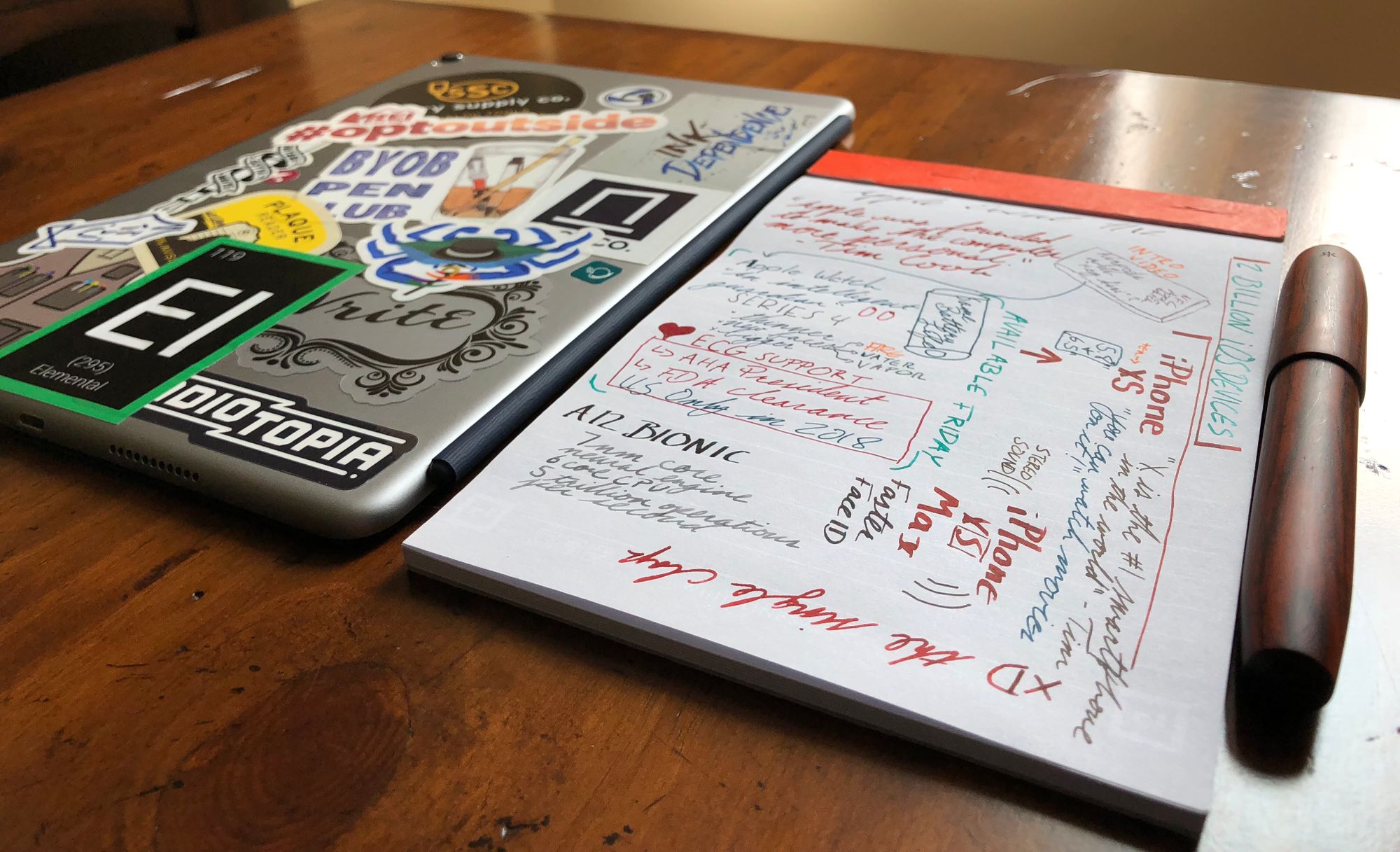 Thanks to Vanness for providing this product for free for review. I was not compensated additionally in any way.